This guest post originally appeared on My Loves, Lives, and Passion
The cover for every book is critical, sometimes even more important than us writers want to admit. We want to think that the story we've crafted alone should be enough to 'sell' our books, but let's face it: covers sell books.
I'm the same way when I buy books. The cover absolutely helps draw me in.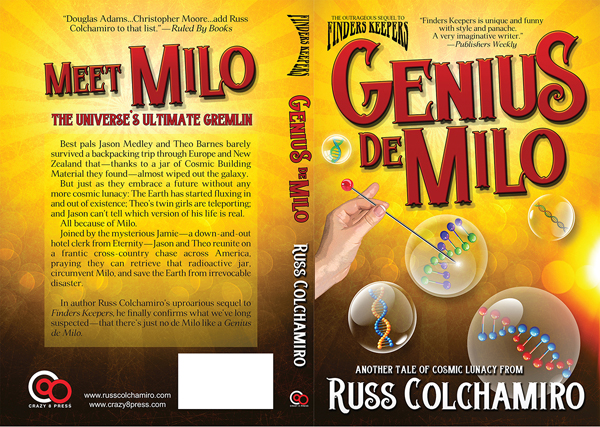 With that in mind, I had very specific ideas about the cover I wanted for my latest novel, Genius de Milo.
I knew I wanted a yellow cover with red type. Why? Because the covers to my other novels are red/purple and blue, respectively, and I wanted contrast as they are lined up on the bookshelf!
But the color scheme is only one aspect. Now I needed a design concept. So I enlisted my pal and fellow author Roy Mauristen, who designs covers for a lot of authors, and does a great job at that.
I started off with the idea that I wanted a lot of turtles on the cover. And I wanted them flipping around like popcorn. Why? Well … it's important to the story. We tried to make it work, but Roy just couldn't find the right turtle image. So finally we started over.
And that's when I switched to the bubbles filled with DNA helixes. Again, these are important to the story. Once I had that idea Roy went off to the races. He did an absolutely fabulous job bringing my idea life, and then added the hand with the pin about to pop one of the bubbles. I wasn't so sure how I felt about it at first, but I was totally wrong, because it works great, and never would have come up with it myself. That was all Roy.
At that point we made a few tweaks, but otherwise the cover just fell into place.
The response I've gotten so far has been fantastic. I've gotten nothing but enthusiastic reviews of the cover, so to my pal Roy … thank you!!
The words may tell my story, but the cover helps sell the book.
Now that you can see it for yourself … how'd we do?