Available in print and e-book here
Do you love scifi thrills, mystery, action, and adventure?
Then in the spirit of Firefly, Flash Gordon, Guardians of the Galaxy, Stargate, and Escape from New York, get your copy of CROSSLINE today.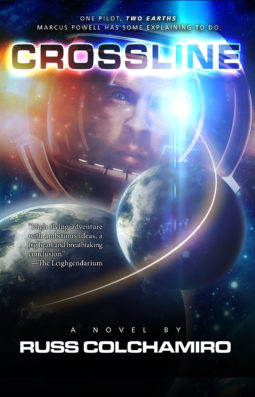 Hotdog pilot Marcus Powell has been chosen to test Taurus Enterprises' prototype craft Crossline and its newly developed warp thrusters. But during the flight something goes incredibly wrong, forcing Powell into a parallel universe.
Soon after he lands on that strangely altered Earth, Powell reluctantly teams up with a trigger happy rebel leader, a pot-smoking shaman, a crafty pie-maker, and a weary solider who hates his guts — all to survive an epic battle he may have been destined for all along!
Meanwhile, back home, reclusive oil tycoon and Taurus CEO Buddy Rheams Jr. — who sent Powell on that very mission — has a mysterious past and a secret agenda, one that could prevent Powell from ever making it back to his wife and little girl.
From author Russ Colchamiro, CROSSLINE is the exciting tale of two ambitious men — and two mirror worlds — linked across time and space in a way neither of them could ever have imagined.
Because once you've crossed the line, can you ever really go back?
For the CROSSLINE book trailer, visit: youtu.be/mJ8fey7_4VA