Available in print and e-book here. Buy your copy today!
In the spirit of Midnight Run meets Hitchhiker's Guide to the Galaxy …
The second book in the Finders Keepers trilogy has arrived!
MEET MILO – The Universe's Ultimate Gremlin!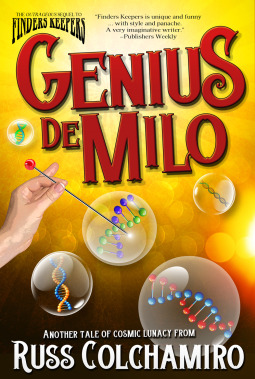 Best pals Jason Medley and Theo Barnes barely survived a backpacking trip through Europe and New Zealand that — thanks to a jar of Cosmic Building Material they found — almost wiped out the galaxy. But just as they envisioned a future without more cosmic lunacy …
The Earth has started fluxing in and out of Existence, Theo's twin girls are teleporting, and Jason can't tell which version of his life is real — all because of Milo.
Joined by the mysterious Jamie — a down-and-out hotel clerk from Eternity — Jason and Theo reunite on a frantic, cross-country chase across America, praying they can retrieve that radioactive jar, circumvent Milo, and save the Earth from irreversible disaster.
In author Russ Colchamiro's uproarious sequel to Finders Keepers, he finally confirms what we've long suspected, but were afraid to ask … that there's just no de Milo quite like a Genius de Milo.
Click here for the Finders Keepers animated trailer.
For fans of authors such as Douglas Adams, Terry Pratchett, and Christopher Moore, and movies and TV shows such as Harold & Kumar, Bill & Ted, Hot Tub Time Machine, Time Bandits, Quantum Leap, Groundhog Day, Northern Exposure, and Third Rock from the Sun.