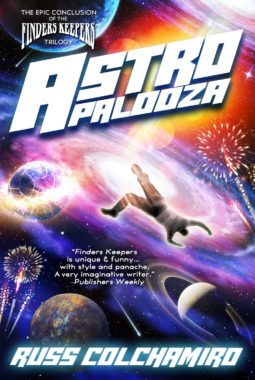 If you're a fan of Sci-Fi comedy and tales of cosmic lunacy, you're in for a treat!
In the spirit of Hitchhiker's Guide to the Galaxy, Bill & Ted's Excellent Adventure, 3rd Rock from the Sun, and so much more …
It's the final countdown! And you're invited!
Backpacking pals Jason Medley and Theo Barnes have already saved the Earth — twice! — nearly obliterating themselves in the process, thanks to a missing jar of the Universe's DNA.
But things are about to get a whole lot … worse.
Astropalooza, the greatest celebration in the Universe, is just days away. And it'll be a party like no other — namely, the last one ever!
Because thanks to our bumbling heroes, the next Big Bang is imminent, with two massive energy waves barreling through space towards one another. When they collide, it'll be the end of Existence as we know it.
Can Jason and Theo finally return their radioactive jar before those waves crash, wiping away the Cosmos?
Can they save the Universe … again?
With Astropalooza, Author Russ Colchamiro brings you the epic conclusion of his hilarious FINDERS KEEPERS trilogy. So join the party. You'll never have so much fun going out with a Bang!
Buy Now
For the FINDERS KEEPERS animated trailer, click here
To pick up the first two books in the series, click here for FINDERS KEEPERS and here for GENIUS DE MILO. Both books are available in print and e-book formats.