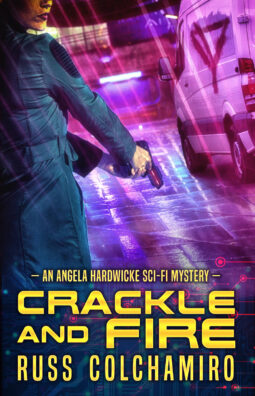 Angela Hardwicke isn't just any private eye.
She's a PI from Eternity, the cosmic realm responsible for the design, creation, and maintenance of the Universe.
When accountant Gil Haberseau hires her to find an intern with stolen corporate files, Hardwicke soon finds herself embroiled in a deadly case of lies, intrigue, and murder, clashing with vengeful gangsters, MinderNot rallies, and a madman who's come a long way to get what he wants.
In Russ Colchamiro's thrilling Sci-Fi mystery Crackle and Fire, Angela Hardwicke learns once and for all that when it comes to being an intergalactic private eye, there's no telling what threats she may face on-realm and off… including the demons that lurk deep within her soul.
"Crackle and Fire elegantly combines PI noir with science fiction and fantasy."
– John L. French, author of The Magic of Simon Tombs
"Angela Hardwicke is one of the most memorable characters in detective fiction."
– Sawney Hatton, author of Uglyville and Everyone is a Moon
BONUS STORY INCLUDED! The AI-themed Angela Hardwicke murder mystery, "The Case of Jarlo's Buried Treasure"

Additional Angel Hardwicke mysteries on sale now:

"The Case of My Old New Life and the One I Never Knew" – from Love, Murder & Mayhem
"The Case of Hauman's Comet" – from They Keep Killing Glenn