In Part I of this Star Wars chat, Mary Fan and I discussed and debated Rogue One. Here, we rank the Star Wars movies in descending order. Think we're gonna agree? Uh … not likely!
Russ: OK, Mary. So … with eight Star Wars movies under our belts so far … rank them in terms of how much you enjoyed them and would want to watch again most. Include at least some commentary next to each choice.
Go!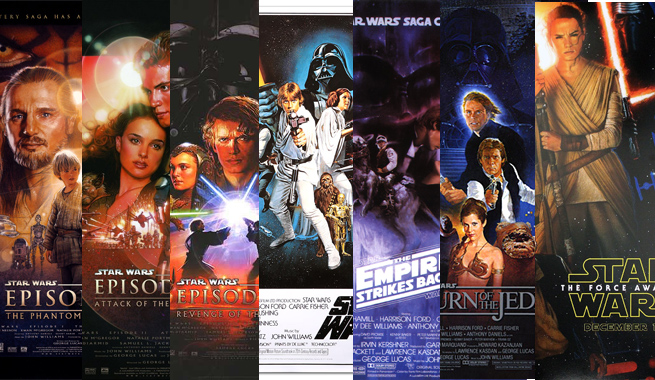 Mary's Star Wars movie countdown:
8 ) Revenge of the Sith – There's plenty to enjoy about the movie in terms of sets and costume and creature design, but really, how can anyone take Anakin's fall seriously? Sith had the burden of bridging the gap between the arrogant 20-year-old we met in Ep 2 and Darth freakin' Vader, and it failed. Does Anakin really think turning to the Dark Side and killing children will save Padme? And how did he get there after, literally minutes before, declaring that he was going to 'stop' the Dark Side?? The whole thing was so abrupt.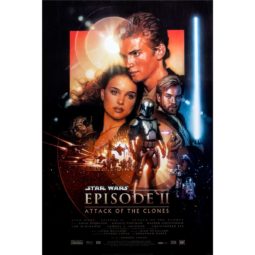 Not to mention, I can't forgive what they did to Padme. She goes from a kickass heroine to barefoot and pregnant, weeping all the time and needing a big strong man to tell her what to do. And then she dies of a broken heart. WTF??? WORST. MOVIE.
7) The Phantom Menace – Another unpopular opinion — yay! I have lots of those about the prequels haha. For some background, I actually watched Phantom before the originals… as a pre-teen in 1999. I thought baby
Anakin was adorable, and you know what? Jar Jar was actually kinda funny. Of course, he's ridiculous to me now that I'm no longer 11. Just like the Ewoks. Also, that final confrontation with Darth Maul is the best lightsaber fight in the whole series.
6-5) – Oof, this one's hard. I'm going to cheat and call it a tie between Rogue One and (unpopular opinion time!) Attack of the Clones. Rogue One was a really well made film, yes, but I don't know how often I'd want to rewatch it (there's only so much tragedy I can take!). Attack of the Clones was not a fantastic movie, but definitely the best prequel. And I really enjoyed watching it. Forget terrible lines about sand… Did you see that fight between Jango Fett and Obi-Wan? How about that high-speed chase through Coruscant? And the introduction to the clonetroopers was chilling because you know what they'll become… it's a fantastic prequel in how it teases the originals. The costume and set design are amazing. Of course, it felt like a different world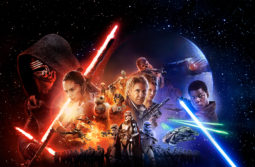 from the originals, but I didn't mind that. …. The Rebellion exists on the fringes of the galaxy, which is why we get all the grungy tech in the originals. The prequels are about the Republic at its height… of course it's going to look very different. Just as Chicago looks very different from, say, Camden.
4) The Force Awakens — Fantastic movie. Yes, it was essentially a remake of A New Hope, but A New Hope is just every monomyth ever in space. And yes, Snoke was kind of awful, but Rey and Finn are two of my favorite characters ever. Finn's actually pretty original… we haven't seen really seen a turncoat in the film canon before. It was also a thrill catching up with our original trio, even if it was brief and rather tragic. I think that connection to the originals is what really sparked my fan obsession. And I'm so curious to see what they'll do with Kylo Ren's character! I actually wonder if Carrie Fisher's death (May the Force be with her) will change his fate, since Leia's role is being rewritten for Ep 9.
3) Return of the Jedi — The least of the originals because those Ewoks get more ridiculous every time I watch the movie (even though I thought they were adorable as a kid). The Force Awakens nearly unseated it, but I love that final confrontation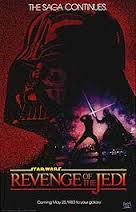 with Luke, Vader, and Palpatine too much.
2) A New Hope — Gotta love the original, with its mix of fairytale idealism and grungy, almost dystopian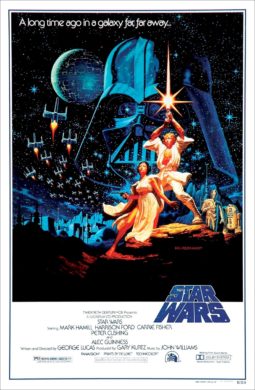 tech. Also, it has the best ending, with the way it treats you to little victories that lead to bigger setbacks (like
rescuing Leia only to lead the Empire to the Rebel base)… all to build up the tension and make that final moment of victory fantastic.
1) The Empire Strikes Back — I mean, it's EMPIRE!! Need I say more?
Your turn!
Russ: Interesting rankings! For the most part, we definitely don't see eye to eye here (although we agree on at least our favorite). Ha-ha! Here's me:
Russ's Star Wars movie countdown:
8 – The Phantom Menace – Darth Maul was incredible to watch aaaand … that's about it. I won't even go into Jar Jar. This could have been a much better movie had the classic Star Wars mysticism been a core underpinning of the narrative, but, aside from Darth Maul, for me, a big, unwatchable dud.
7 – Return of the Jedi – This is kind of weird one for me. The interplay between Luke, Vader, and the Emperor was pretty awesome, and some of my favorite scenes in the entire franchise. But — and I know I'm gonna get nerd hated on this one — I was never a fan of the Joba the Hutt rescue sequence, and the Ewoks are just too silly. I wanted to love Jedi, especially after Empire, and I saw the original in the theaters as a kid, so they're forever a part of my ongoing childhood, but Jedi falls mostly flat for me.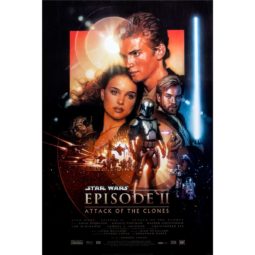 6 – Attack of the Clones – Yes, the relationship between Padme and Anakin is ridiculous, but I liked the nourish feel to the first half, the sequence with Obi Wan and Jengo Fett on the clone water base was very cool, and, aside from the arena sequence, the last 45 minutes is thrilling. I know it's not a 'great' movie, but I love watching it.
5- The Force Awakens – Lots of cool moments, it looks great, and Rey is an absolute star, but there's a lot of been there done that here.
4- Revenge of the Sith – For all of its issues (poor Padme, the relationship with Anakin, blech), this is the movie where things go dark and gruesome for our heroes, with Ewan McGregor at his absolute peak as Obi Wan. Flaws aside, it's kinda badass, and if it's on, I'm watching it.
3- A New Hope – It's the original, and the magic is still there. The first 45 minutes feels almost painfully slow by today's standards, and the light saber duel between Vader and Obi Wan is laughable now, but the characters sing, and the ending is as awesome as ever.
2- Rogue One – We discussed Rogue One at length already in Part I of our Star Wars chat, but I'll say that it kept me riveted all the way through, and makes A New Hope all the more compelling now that we know what leads up to it.
1- The Empire Strikes Back – Hands down the best. Yoda. Lando. Luke and Vader. Han in peril. You know the rest. Pure gold.


Okay, folks! That's all she wrote for this edition. But Mary and I will be back soon with new chats. Stay tuned!
ABOUT MARY FAN
Mary Fan is a sci-fi/fantasy writer hailing from Jersey City, NJ. She is the author of the Jane Colt sci-fi series, which comprises ARTIFICIAL ABSOLUTES (Red Adept Publishing, 2013), SYNTHETIC ILLUSIONS (Red 
Adept Publishing, 2014), and VIRTUAL SHADOWS. Her works also include several young adult fantasy novellas: THE FIREDRAGON (Glass House Press, 2014), FIREDRAGON RISING (Glass House Press, 2015), TELL ME MY NAME (Glass House Press, 2014), and LET ME FLY FREE (Glass House Press, 2016). These serve as prequels to two full-length series currently under contract with Glass House Press, Flynn Nightsider and Fated Stars.
Find her online at www.maryfan.com, on Twitter as @astralcolt, and on Facebook at www.facebook.com/mfanwriter.
ABOUT RUSS COLCHAMIRO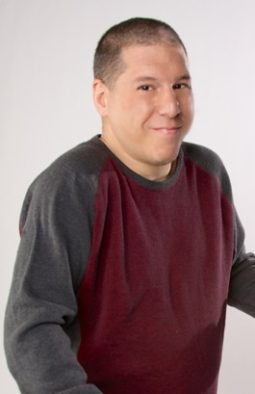 He's a science fiction and comedy author who writes lots of goofy stuff, particularly his Finders Keepers trilogy. But if you want to learn more, you're visiting his site. Click here, or follow him on Twitter @authorduderuss and Facebook at www.facebook.com/RussColchamiroAuthor