Howdy folks!
This weekend — Friday, August 1 – 3 — I'll be down in Hunt Valley, MD for Shore Leave, a fan-run science fiction that is loads of fun — with Spock himself Leonard Nimoy as one of the big name guests.
I'll also be there with my  Crazy 8 Press partners in crime, and where we're debuting our new fantasy anthology, Tales of the Crimson Keep.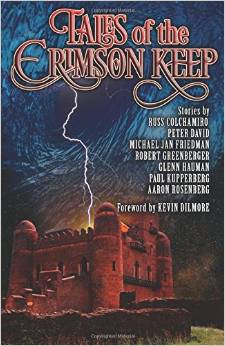 I'll be there meeting fans, signing books, and turns out I'll be talking on a LOT of panels.
🙂
Here' my schedule, if want to say howdy:
FRIDAY
8 pm — Hunt
Science Fiction Comedy
Moderator: Aaron Rosenberg
Panelists: Russ Colchamiro, Peter David, Lorraine Anderson
9 pm — Hunt
Why We Love SF
Moderator: Russ Colchamiro
Panelists: Susanna Reilly, Phil Giunta, Daniel Patrick Corcoran,
Stuart Roth
10 pm Hunt/Valley
Meet the Pros
SATURDAY
1 pm
The Writing Process — Derby
Moderator: Russ Colchamiro
Panelists: Phil Giunta, Melissa Scott, Amanda Headlee, Lorraine
Anderson, Danielle Ackley-McPhail
2 pm
Crazy 8 Press — Salon F
Moderator: Bob Greenberger
Panelists: Aaron Rosenberg, Glenn Hauman, Russ Colchamiro, Mike
Friedman, Peter David
3 pm
Using Social Media — Belmont
Moderator: Russ Colchamiro
Panelists: Jenifer Rosenberg, Keith DeCandido, Dayton Ward, Danielle Ackley-McPhail
4 pm
Game of Thrones — Salon E
Moderator: Kathleen David
Panelists: Jen Rosenberg, Russ Colchamiro, Glenn Hauman
SUNDAY
11 am
Orphan Black — Salon E
Moderator: Russ Colchamiro
Panelists: Jen Rosenberg, Marco Palmieri, Susanna Reilly
Noon
Tracking All the Moving Parts — Derby
Moderator: Eric Bakutis
Panelists: Kirsten Beyer, Russ Colchamiro, Jeff Lang, David
Mack, Jim Johnson
2 pm
Giving and Getting Good Critiques — Derby
Moderator: Aaron Rosenberg
Panelists: Susanna Reilly, Russ Colchamiro, Danielle Ackley-McPhail, Steve Wilson, Eric Bakutis