I've been on a huge music kick lately, so in that spirit below is my list of the top 10 rock n' roll voices of all time.
Now, to clarify … this list is strictly narrowed to Rock n' Roll, so there are no pop, soul or R&B singers here. Granted, there are some cross-over artists, and you can certainly make cases that someone does or doesn't belong in one category or another, but before you start screaming that Aretha Franklin isn't on this list … of course she's one of the greatest singers ever … but for this one list, I don't consider her a strict Rock n' Roll singer.
Also, this list of singers unto itself does not necessarily match which artists or bands I consider the best ever, nor does it take into account production values, song writing or number of "hits." This is purely about which Rock n' Roll voices I never get tired of hearing.
Okay. Enough with the wind up. Below is my list. Let the debate begin:
10: Jim Morrison: His pagan ways graveled up his voice over the last album or two, but the former Doors front man had such a soothing, haunting vocal range that transported me time again.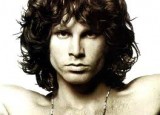 Whether The End, Touch Me or Riders on the Storm, Mr. Mojo Rison was the Dionysian Rock n' Roll guide of all time.
9. Stevie Nicks: The gypsy queen of rock. There's no one else quite like Stevie. Edge of 17, Rhiannon, Landslide. That's Hall of Fame right there.
8. Chris Daughtry: If there's a modern day singer with a more BOOMIN' voice, I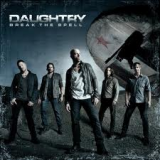 haven't heard it. And as powerful as he sounds on record, hear him live. I stood literally five feet from him at a recent performance, and my teeth are still rattling. Wow. This dude has a loooong career ahead of him. A once-in-a-generation voice.
7. Chris Cornell: The second coming of Robert Plant, Chris Cornell has that rare of combination of power and vocal range like a creature from Lord of the Rings. From Soundgarden to Audioslave, he's one singer that always makes me stop and take notice.
6. Pat Benatar: Powerful, sexy and a growl to match. As fierce as they come. Shadows of the Night still stops me in my tracks.
5. Steve Perry: You might argue that Journey is more pop than rock, but I don't care. This guy hits notes so loud, high and strong it defies logic. Anyone who says that at least now and again they haven't done a little fist raising when this guy signs, is flat out lying.
4. Ann Wilson: She had me at Barracuda.
3. Grace Slick: Jefferson Airplane/Starship whatever had its share of highs and lows, but Grace Slick had a voice that made the Concord stop mid-flight to ask what the hell they just heard. Pure wow. White Rabbit still has some of the trippiest, haunting vocals ever.
2. Robert Plant: From Stairway to Heaven to the Immigrant Song, this Led Zeppelin front man had maybe the most howling voice of all time.
1. Freddie Mercury: With that operatic power and style, Freddy Mercury is the hands down winner.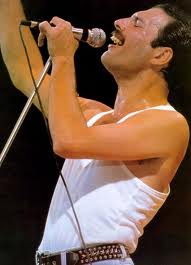 For me, it's Freddy and then everyone else. Just watch him perform Radio Gaga at Live Aid and you'll remember just how incredible he was.
Honorable mentions: Axel Rose, Roger Daltrey, Elvis, Scott Weiland, Chris Robinson, Steven Tyler, Chrissie Hynde