Hi Gang-
I'm back after a bit of newsletter hiatus, as I had an unusually hectic few months that required my attentions on multiple fronts. But I'm happy to report lotsa good stuffing coming. The best news, of course, is that my little ninjas are happy and healthy, and in fact have their second birthday coming up in August, if you can believe it. Good gravy!
As for my writing endeavors:
* At the end of March I had a table at the annual ICON sci-fi event in Stonybrook, where Finders Keepers sales were a bit off from last year, but still posed a very strong showing. The questions I was asked most often throughout the weekend? When is the sequel coming out, and will a movie follow?
The answers are: I start the first of two Finders Keepers sequels at the end of the summer and …. I sure as heck hope so! I'm working on it! For an inside look into a potential dream movie cast, click here.
And check out some new integalactic fans: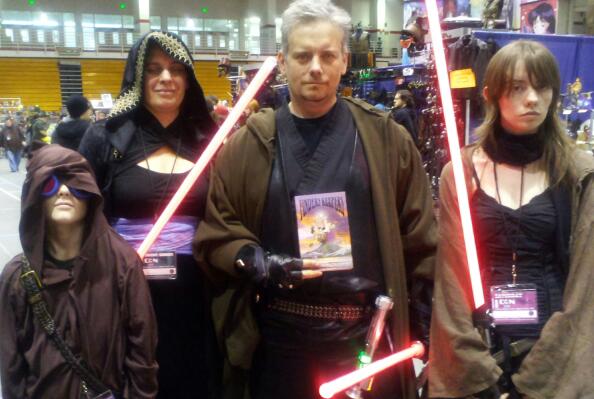 It was also fun catching up at the show with fellow authors Aaron Rosenberg, Keith DeCandido and Patrick Thomas.
* Speaking of Finders Keepers, here is a recent compliment, one of the most passionate responses I've received in a while: "I can spend an eternity here reading this stunning tale. It was an addicting sling of words that spun a silken web around me, entombed me and I just couldn't pry myself away from it."
* As for my newest endeavor, here's the latest and greatest on Crossline. I will be spending the rest of this month doing intense line edits, fine tuning every last word to ensure that we come away with a rock' em, sock 'em ass-kicking space adventure … with my usual time bending, philosophical shenanigans included.
After that, I turn the manuscript over to my loyal, trusted and fabulous copy editor Barney O'Neill — who did a bang-up job in the same capacity on Finders Keepers — to ensure that there's not a word out of place.
And then … get this sucker published!
* Last but not least let me give a special shout out to my beautiful wife, Liz, who just celebrated a birthday, and also to all the dad's out there for a festive and happy Father's Day.
That's all she wrote for this edition. Liz and I are headed off next weekend for a much-need vacation to Spring Lake, N.J., where we'll spend three days on the beach, staring out at the ocean, while my ninjas and Simon storm the castle, er … get quality time with their grandparents.
Until next time …
All the Best,
Russ