Daughtry's Break the Spell is by far my favorite album from these guys, and as I've blogged about previously, I think they are going to be around a long, long time. Their songs have great hooks, and they've got a lead singer — Chris Daughtry himself — sporting a Hall of Fame voice (see where I rank Chris among my favorite rock n' roll singers ever).
I'm sure the Daughtry boys are itching to get back into the studio, but while they are out there touring, they typically mix in a few cover songs into their set list, including one of my all time favorite rock songs, Rebel Yell by Billy Idol.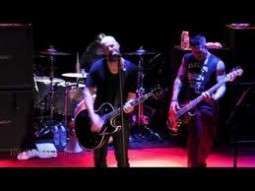 Speaking of covers, if Chris and the gang are open to suggestion, here are ten whumpin' rock songs I'd love to hear them bang out. Some you might know, some maybe not, but either way, I think Daughtry would do them all justice:
Eye of the Tiger, Survivor
Enter Sandman, Metallica
Rockin' in the Free World, Neil Young
Like I Do, Live
Cum on Feel the Noise, Quiet Riot
Plowed, Sponge
Twilight Zone, Golden Earring
Hazy Shade of Winter, Simon and Garfunkel
A Matter of Trust, Billy Joel
No Easy Way, Robert Tepper
I'm sure there are many others the Daughtry boys would do justice. Any songs you'd like to hear them cover?