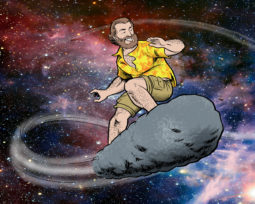 Name: Milo
Age: Unknown
Hometown: The Universe
Occupation: The Great Disruptor (Brigsby's foil)
Aspirations: To balance out the scales of justice in the Universe by upending The Minders of the Universe whenever possible
Most Strategic Friend: Angela Hardwicke, private eye
Most Famous Disruption: Milo's Sphere: Milo snuck into a galaxy work site, got drunk, and poured out a jar of Cosmic Building Material into Universe. The damage was so intense that the entire region of the galaxy had to be wiped clean, forever. Permanent nothing. Thus, Milo's Smear.
The Character: Whereas Brigsby is a snobbish fashionista and famous talk show host, Milo is the opposite — a schlubby, unshaven party dude whose sole purpose is to be The Great Disruptor — a galactic gremlin, if you will. While Brigsby — as The Minder of the Universe — spends his time overseeing the creation off all, Milo looks to upend Brigsby where and when he can, with the hope of keeping Brigsby on his toes, and to keep him from getting to big for his britches. Milo embraces this role. He considers himself a man of the people, and truly enjoys their company.
Milo is only mentioned briefly in Finders Keepers, but makes his presence well known throughout Genius de Milo and Astropalooza, interacting with most of the key players in this tale of cosmic lunacy.
The Illustration: This might be one of my favorite illustrations. To me, at least, nothing better captures the spirit of Milo than him 'surfing' throughout the Universe, on a comet. Rich totally nailed this one.