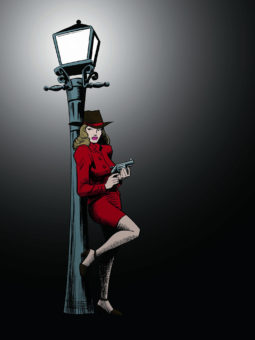 Name: Angela Hardwicke
Age: 31
Hometown: Eternity
Occupation: Private investigator
Famous Friend: Milo (the Great Disruptor)
Aspirations: To solve the most important missing persons case of her life.
The Character: Angela Hardwicke only makes a cameo in Genius de Milo, but takes a much larger role in Astropalooza, an introduction by design. I've always wanted to write a classic style private eye character — a Sam Spade type. Hardwicke is such an invention. She has that typical private eye yeah-yeah, been-there-done-that attitude, but she's carrying a lot of weight on those shoulders. She knows, and has been through, more than she ever wanted.
She's a private eye. In Eternity. So she's dealing with some serious business. Most of her cases are cheating husbands, missing persons, embezzlement, and the like, but she's also friends with Milo, who just happens to be The Great Disruptor, and the cosmic foil to Brigsby, The Minder of the Universe. That friendship has many perks, and many secrets, not all of which she wants to keep … or even knows about. She plays an important, functional role in Astropalooza — picking up Lilly as a client. Longer-term, my intention is to write an entire series of books based on her adventures.
The Illustration: I actually did two versions of this one. I told Rich what I wanted, he did it, and then I didn't like it, so I asked him to go back to the drawing board and try again. What you see here — in the dark, leaning against a lamp post, underneath the light's halo — is much more the style I envisioned all along. She's beautiful, mysterious, and dangerous, dressed in pinstripes. And she knows her business. Another stunner from Rich.