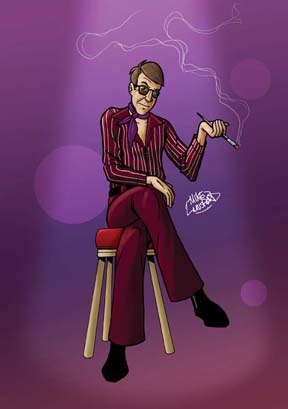 Name: Brigsby
Listed Age: 63
Residence: Horizon Terrace; Eastern Sphere of Eternity
Occupation: Host of top-rated daytime talk show, Breakfast with Brigsby
Latest Rumor: Quitting Breakfast with Brigsby to launch lifestyle magazine,
B
Recent Interests: Galaxy Design
Best Friend: Donald, married to Danielle
Character: I'll always have a special affinity for Brigsby, because beyond being the most audacious character in Finders Keepers, he was a character that was never part of the initial story; he just appeared one day as I was writing. First he wasn't there–then poof–and then he was.
Brigsby is a morning TV talk show host in Eternity, who has the popularity, wealth and business acumen of Oprah, but on stage acts more like the host of Queer Eye for the Straight Guy. But don't be fooled. Brigsby knows what he's doing. He gives his audience what they want, and they love him for it.
With Brigsby, he serves two key functions: one is more practical, the other more philosophical. On the one hand, he is an old friend of Donald, who as we know by now gets himself into a bit of trouble. Given Brigsby's wealth and connections, Donald asks for advice–and help. Brigsby has already been pivotal in that regard, as he pulled some strings to get Donald and Danielle their jobs as low-level galaxy designers, and also arranged for a way-friendly purchase price for their 2-bedroom condo in Horizon Terrace. And yet Donald's wife, Danielle, does not trust Brigsby, and that leads to some tension, and also some logistical problems for the married couple. But no matter how outrageous Brigsby sounds on the surface, underneath he's often the voice of reason. Donald ultimately believes this; Danielle doesn't buy it. But who's right?
I also used Brigsby as a vehicle to express some of my own thoughts about the big picture–the universe, the cosmos; a sense that perhaps the greater existence has its own logic and inner workings that do, in fact, function with rhyme and reason, even if we don't quite get it. But because Brigsby is so outrageous and outspoken, it's difficult to take him too seriously, which is what I wanted. My intent was to talk about ideas that are important to me, without ramming them down any body's throats. I just want to get those ideas out there, and let people decide for themselves whether they agree or not. I thought Brigsby was just the right character to channel those ideas.
Illustration: I absolutely love how this illustration came out. I always envisioned Brigsby wearing these loud, pleated pants, big tinted glasses and a neck scarf–kind of a throwback to the artsy, snobbish type. Mike nailed it just right. And if you look a little closer, you'll see that Brigsby, while seated on his customary stool, is also in the faint glow of the spotlight.