Age: 33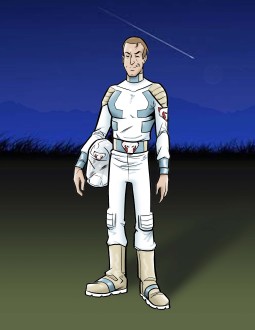 Hometown: Houston, Tx
Family: Chandra (wife), Jesse (daughter)
Occupation: Space Pilot, Taurus Enterprises
Claim to Fame: First pilot ever to test warp thrusters in space
Lost in Space: Forced through a wormhole and into a parallel Universe, Powell lands on Aretha, a mysterious, yet parallel version of our modern-day Earth.
Haunted By Death: Powell's younger brother died of cancer in early childhood, to cancer. And when Powell was 12, he found his father, dead from a stroke. The dual loss cemented Powell's fundamental need to escape, and led to his 'cowboy' attitude. Both cost him dearly.
The Character: Marcus Powell is the novel's strapping hero, physically fit, mentally sharp, and a bit of a rogue, which puts him at instant odds with the controlling, corporate structure of Taurus Enterprises, which developed and funded the warp technology he was tasked with testing. He doesn't trust Taurus' CEO Buddy Rheams, Jr, and he absolutely despises the day-to-day operational leader, Dale Aranuke. The feeling is mutual.
But let's be clear, Powell's mission — to be the first man ever to test warp thrusters in space, propelling him at speeds greater than the speed of light — was incredibly dangerous, and took remarkable courage. Or stupidity, depending upon your point of view.  He is devoted to his wife and daughter, yet accepting this mission came with the overwhelming reality that he could die tragically in any number of ways.
And while he ends up on the parallel planet of Aretha, caught in the middle of a war, Powell is not a soldier. He is a pilot, husband, and father, and wants nothing more than to get back to his family. So to me, Powell wasn't so much of an anti hero as a reluctant hero. He's lost in space, there's physical danger everywhere, he doesn't know who to trust, and his ideas about life and his place in the Universe are challenged at every turn.  I wanted Powell to be tested, painfully, throughout the novel, and give the readers the chance to experience his struggle in real time. His inner struggles were just as exciting to me as his journey through time and space.
The Illustration: Powell's journey, both physically and internally, is indeed long and intense, so I wanted the illustration to be simple. Rich and I decided on a more classic approach — Powell in his flight suit, with his helmet under his arm. But if you notice in the background there's a shooting star  or … something else? As you read Crossline, that image will make more sense.