Name: Dolores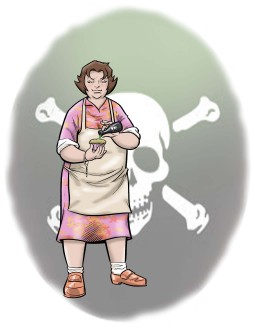 Age: 41
Occupation: Grinroad's baker
Family Status: Married; mother of eight (8) kids, including triplets
The St. Brewer's Day Feast: In the town of Grinroad, The St. Brewer's Day Feast is annual banquet hosted in a cavernous eating hall, where the entire town gathers for an enormous feast. Dolores serves as baker, with a host of pies so delicious there are lines around the table. Dolores seemingly plays a minor role during the feast itself, but her impact is felt far and wide.
The Character:  Dolores might be one of my favorite characters from any of my books. She is Grinroad's baker, unofficial den mother, and the actual mother of eight children. But she's also much more than that. I won't get into the specifics here — you'll find all the juicy secrets within the pages of Crossline — but it's safe to say that she's far more than what initially meets the eye, and plays a critical role in Powell's journey. Although with a style distinct from Keela, who's more of a shoot first ask questions later kind of warrior, Dolores is another of the novel's true heroes.
The Illustration: To me Dolores was always a Kathy Bates type, someone who could be soft and warm and grandmotherly, and also tough as nails. Rich, as always, really nailed the illustration here. If you look closely she's holding a muffin, which is actually important to the plot. And she's pouring something onto that muffin, but again, I won't say what. Nevertheless, the illustration's background should give you a pretty good idea of what she's up to.