Name: Keela Amos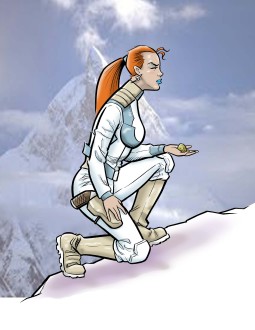 Age: 29
Status: Pilot; wife of Mitri Amos
Mother substitute: Though childless herself, Keela unofficially adopts Olivia, a rowdy 13-year-old girl orphaned by war. Keela is particularly attached to her, which complicates matters when Olivia goes missing — and why.
The Character: Keela is fierce, tough, and loyal. She's a fighter, and space pilot, but also the type to shoot first and ask questions … maybe never. She's a bit of a reluctant warrior — she leads because she feels that she has to — but it's simply her nature to put herself out front and worry about the consequences later. Her impulsiveness does not make things easy on Powell.
Keela was particularly challenging to write because it was important to me that she have real depth. Her people are on the verge of being wiped off the globe because of an almost endless war, and their prospects for survival aren't great. Also … her husband, Mitri Amos … went missing in deep space, and Marcus Powell returned with his ship. So I think you can understand that she might have some questions. With attitude!
The Illustration: I really love what Rich did here. I wanted Keela in that kneeling position, like she's hunting down a lead. The snowy mountain background works quite nicely, given one of the plot  points in  Crossline. It was also Rich's choice to have her uniform be white — creating stark imagery, particularly against her red hair. Keela looks here almost identical to how I saw her in my mind's eye.