Sorry I'm a little late on this one, but I'm still catching my breath after the NY Comic-Con.
I was there on Thursday of the 4-day event, but I got more than my money's worth. Comic-Con is always such a madhouse, with Thursday being the most manageable day by far.
While there I got to see some of my writer pals, including No Small Bills and Too Small For Tall author Aaron Rosenberg, and Glenn Hauman — both with Crazy 8 Press — as well as Keith DeCandido and Star Trek author stud David Mack.
And, as always, I had my adventures with long-time partner-in-crime Rich Henn, who was out there slinging comics like a madman. We wound up having late-night burgers and beers — all was good in the end. Although the fries were wire-thin curly cue, so you had to eat them with a fork – or by the handful. Not prime French fry logistics, but that should only be my biggest problem.
During the show itself, I was out there doing the usual Finders Keepers promotion, and made a new fans, including: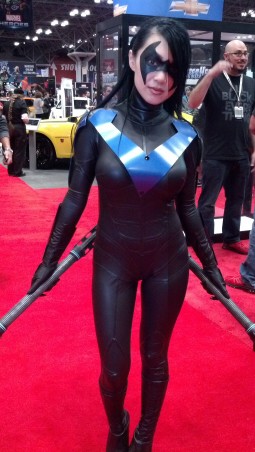 And, of course, this dude:
This will likely be my last show of 2012, but based on what's in the hopper, it's starting to look like 2013 will be quite a year indeed!