The NY Comic-Con was its usual array of spectacle and madness. I was there for the Friday showing, and despite the pure overwhelm of the event, I found it to be much better organized than in years past and easier to navigate.
As always, I was there to promote Finders Keepers and see the gang. I hung out with partners in crime (and Zoomies creator) Rich Henn and Crossline editor James Chambers, and stopped by the booth of Terry Moore, who signed his latest paperback editions of Echo for me.
The big attractions I saw were a Q&A about the new Avengers movie, and a long line for the Walking Dead comic, tied into the AMC show.
Also where I was there, here are a few fans I picked up along the way:
Holy Batchicks, Batman. This is what crime fighting is all about:
Abracadabra. This magical beauty was all about Finders Keepers:
Only at Comic-Con can you say that Chicken Nugget Dude has joined the fray:
And of course, what would a Comic-Con be without Chicken Fett?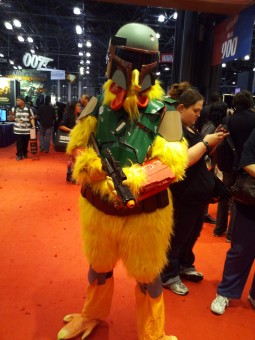 Physically, NY Comic-Con is tough, between the constant blaring of noise, navigating almost 100,000 people, not to mention those convention floors are unforgiving! Maybe I'm just showing my age, but my back is still aching. Invest in some padding carpets! Yikes.
Still, NY Comic-Con was a good show for me, where a good time was had by all. In fact, by night's end a bunch of us made it up to Heidelberg on 85th Street and 2nd Avenue for some beer and Bratwurst.
And for those of you who missed out last year, here's a link to my video interview for the debut of Finders Keepers:
https://russcolchamiro.com/interviews/
Russ