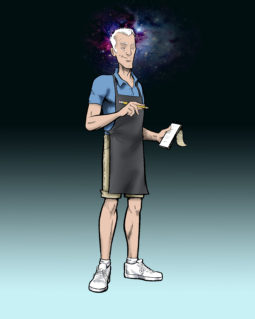 Name: Hank
Age: 57
Hometown: Unknown
Family: Jean (wife; although Hank is previously four times divorced)
Occupation: Waiter, recovering corporate executive; misc
Favorite relationship: Serving as mentor and friend to Jason Medley
Favorite party favor: Hank loves his weed
The Character: Hank is actually loosely based on the composite of various people I met throughout my years in the restaurant business. Pushing 60, Hank, theoretically, should  have no business working as a waiter in a chain restaurant. But he hasn't failed. He's taking a break from more grandiose responsibilities. Or so it would seem. He is an unconventional but important to mentor to Jason, who responds to Hank's off-kilter wisdom. And while Hank's primary role throughout the three books is to help Jason along his globe- and galaxy-trotting journey, Hank has his own story arc that I think plays out in pretty epic fashion.
The Illustration: This was one of the easiest illustrations for me to conceive of. I wanted Hank in the attire he wore when he first met Jason — the classic khaki short and polo shirt chain restaurant 'uniform', including the long apron and note pad. The swirling galaxy in the background alludes the grander scheme of Hank's role in the trilogy. Another from Rich Koslowski.