Name: Arthur Anson, MD
Nickname: Doc
Age: 48
Marital Status: Widowed
Profession: Family physician for the residents of Kinsey, Tx
Second Career: Chief Operating Officer, Taurus Enterprises
Hobbies: Young girlfriends; whiskey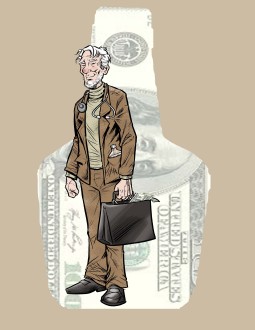 Can You Keep a Secret?: In an unlikely pairing, Doc Anson transforms himself from a local physician into the No. 2 executive at Taurus Enterprises, becoming quite wealthy in the process. But is he being paid for his wise counsel … or ability to keep secrets? Maybe both.
Pet Project: Never straying too far from his Hippocratic oath — or possibly to assuage his guilt — Doc insisted that Buddy Rheams Jr. fund the most socially progressive healthcare program in America at the time.
The Character: Doc Anson is pushing 50 when we meet him in 1955 America. He's widowed, an alcoholic, and at the rate of whiskey he's consuming, he's unlikely to see 1960. But then he meets a young Harlan Rheams Jr., who, despite the odds, becomes an oil tycoon and America's richest, most powerful man, including the development of a space program. With his homespun personality, Doc is Buddy's voice of reason and stabilizing influence. For a while, at least. I had loads of fun with Doc, who, for a man of medicine, turns out to be quite the opportunist.
The Illustration: This was one of the tougher illustrations to get right. At first, Rich had Doc looking much more buff. It was a great illustration, but Doc is in his late 40's, and due to alcohol, should look like he's pushing 70. So I had Rich scruff him up a bit, with wrinkled clothes and a whiskey bottle in the pocket. The bottle shaped background was Rich's touch, and after some back and forth, he added in the $100 bill for filler, another nice touch given Doc's path.