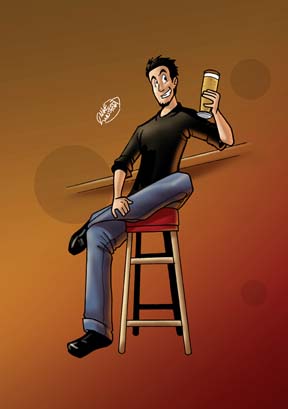 Name: Lex
Age: 29
Residence: Eastern Sphere of Eternity
Occupation: Second-in-command at Starlight Designs galaxy design firm
Aspiration: To enjoy life as often and as thoroughly as he can
Worst Career Pitfall: Framed for embezzlement, then fired, beaten by thugs and tossed into an alley
Greatest Source of Frustration: Has tendency to put his faith in the wrong people
Character: I've been told that Lex is the most sympathetic character in Finders Keepers, but I'll let you decide for yourself after you've read it. What I most like about Lex is that he really is sort of the novel's everyman; he's not great at anything, but he's good at many things. He's a pretty decent guy all around, is responsible and hard working, but he'd rather go snowboarding or have a few drinks than stay late at the office to earn that promotion. Lex likes to have fun, and doesn't understand why you wouldn't.
At the same time, Lex struggles to comes to terms with the things he doesn't have–money, opportunity, status–that can come with business success, and tends to let others, who are more ambitious, take advantage of him because they have what he thinks he wants. As such Lex gets himself into trouble. In fact, Lex meets Emma at a literal low-point in his life, and you'll have to judge for yourself as to whether meeting Emma makes his life better or worse overall.
Yet Lex's place with Emma's new firm–and his inherent likability–open doors for him closed to most everyone else. He winds up meeting people who help shape his future in significant ways–do they ever!–and challenge him to question why he chooses to follow Emma, and what he thinks he gets out of it.
Lex also plays a major role in one of the novel's biggest twists that I bet you'll never see coming … He sure didn't!
And let's not forget that when Lex gets banished to Earth, he winds up as a dog–an actual canine–as you can see in the next illustration. Why that happened, well … you know the drill.
Illustration: The illustration I think speaks for itself. I wanted to present Lex here the way I saw him during the writing process; kicking back with a cold beer, enjoying the little things. That's Lex. He just wants to hang out and have fun.
It also serves to contrast with Lex's alter ego–canine Lex–who I think you'll agree doesn't look like he's having quite as much fun as in this version.