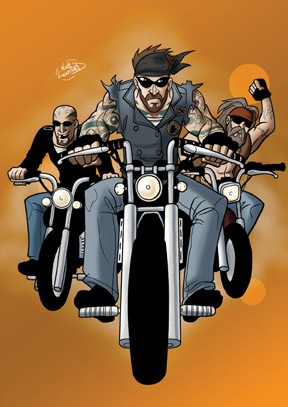 Name: The Cougars
Members: Aputa (in front); Pooky (in black shirt); Wallace (with fist raised)
Ages: mid-20s – mid-40s
Home Town: Auckland, New Zealand
Occupation: Marijuana dealers
Strongest Beliefs: That the land of New Zealand is a gift from the Gods, and that Mother Earth should be treated with the utmost respect. You never–ever–litter or treat the land badly. Or else.
The Characters: The Cougars, with Aputa out front, only get minor attention in Finders Keepers, but boy are they important. Of course, I won't say why, or how, as you'll have to read the book to find out, but they do tie in to a key sequence that is one of my favorites. They make they way through life dealing some weed, and as you can tell by the illustration, they really aren't people you want to mess with. But of course, some of the characters in Finders Keepers do just that.
The Illustration: This was the last illustration I had Mike do, but it is absolutely one of my favorites. I sent him a web clip I found online of Michael Madsen (the guy from Resevoir Dogs who cut off the cop's ear) riding his motorcycle with a few other dudes, and it just perfectly encapsulated what I wanted. Thanks to Mike, these bikers look as mean and rowdy as I hoped they would. And the color scheme just pops.