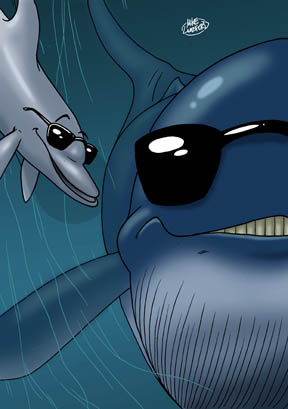 Name: Ira
Species: Bottle-nosed Dolphin
Name: Howard
Species: Blue Whale
Residence: Ocean waters off Cathedral Cove, New Zealand
Favorite Activity, Ira: Get stoned on hallucinogenic shrimp and watch the coral go all super nova
Favorite Activity, Howard: Swallow creatures whole, spit them out, and then laugh like mad when they realize they're still alive.
The characters: Howard and Ira came to me through an act of divine inspiration, or from whatever part of the ether ideas come from. Liz and I were on vacation many years ago with two other couples, taking a cruise to the Caribbean, not long after Sept. 11. We were both down in the gym, on the elliptical machines, looking out onto the gorgeous Caribbean waters. And then whamo! It came to me. Howard and Ira were born, or should I say, they made themselves aware to me. I wasn't thinking about Finders Keepers at the time—I hadn't even started writing yet. But in a flash I saw them in my mind's eye, and they've been a part of the novel ever since.
Ira, who is a bottle-nosed dolphin, and Howard, a blue whale, represent the more fantastical part of Finders Keepers. Ira is a bit of stoner, tripping out on hallucinogenic shrimp. Howard, meanwhile, is a bit of prankster, with a deep, booming voice and amuses himself by telling bad puns. And yet Ira and Howard are also philosophers, challenging certain characters to reconsider how they perceive the world as they think they know it, while putting their loyalties to the test. What the characters who interact with them struggle with most of all is whether Ira and Howard are real, magic, or the result of mental breakdown or drug-induced hallucination.
Ira and Howard were just an absolute blast to write because there are no real rules to talking dolphins and whales; I had the freedom to let them be anything they wanted, while still falling under the umbrella of believability. Once you buy into the idea that they can talk, you can pretty much buy into anything else from them. Whether there's more to them or not, I won't say, but their scenes were some of my favorites. I sometimes wonder if they should have gotten more attention, but they make quite the impression in the time they get. In fact, I might revisit them in another novel somewhere down the road.
The Illustration:
Mike did just a totally bang-up job on this illustration, the last one in the set. Because Ira and Howard are kinda stoner dudes, I wanted Mike to give them the Jack Nicholson sunglasses, which just kills me. Given the space limitations it certainly wasn't easy to get a blue whale and dolphin into the same illustration, have the perspective work out, while keeping their respecitve sizes accurate and get them both in the frame. Just a great way to wrap up.