Name: Emma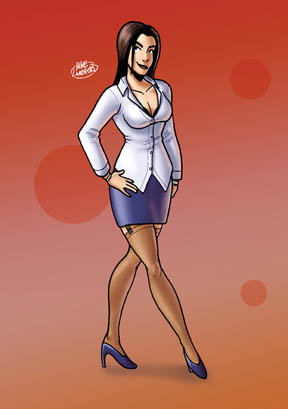 Age: 31
Marital Status: Divorced
Residence: Eastern Sphere of Eternity
Occupation: Owner/operator of Starlight Designs galaxy design firm
Aspiration: To become the richest, most famous and influential galaxy designer in Eternity
Most High-Profile Project: Milky Way Galaxy
Best Friend: Rufus, an ex-lounge singer whose voice was ruined through a rare illness
The Character: Emma is a first-rate galaxy designer in Eternity, and after suffering fools in another firm, she branches off to start her own, Starlight Designs. Emma is your classic type-A personality. She's the boss. Emma is motivated and determined, and absolutely refuses to cow-tow to the male ego. She takes on Lex to help her run the company, but isn't all that truthful about the exact role she expects him to play. Emma is not above manipulating others–including poor Lex–to help her get what she wants. And if that means using that killer bod to her advantage, she's okay with it.
True to her word, Emma hits the big time, landing the contract to design the Milky Way Galaxy. So how did she wind up getting banished to Earth–a planet she designed–and imprisoned in a body that couldn't be more different than this one? You'll have to read Finders Keepers to find out …
The Illustration: Talk about before and after. This is the before.
I told Mike that this Emma had to be hot. Smoking. Hot. I wanted her in that classic business sharp outfit, but also just a little naughty. Emma absolutely is a great galaxy designer; her talent is legitimate. But she's perfectly willing to use her sexuality to help her get what she wants, and I wanted that to come through in the illustration. The garter was Mike's addition. It totally works. She is hot!
And now that you can see what Emma looked like originally, you really get the contrast with Earth Emma, and can understand why, in that illustration, she looks so p.o.'d!