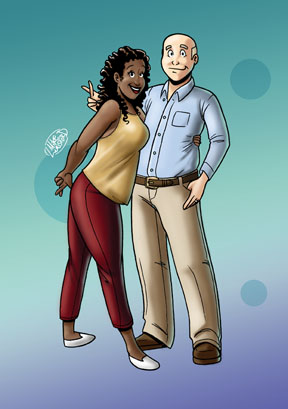 Names: Donald and Danielle
Ages: Donald, 37; Danielle, 33
Residence: Horrizon Terrace; Eastern Sphere of Eternity
Occupation: Low-level galaxy designers
Status: While overseeing construction of Earth's water systems, they knocked a jar–containing cosmic building material–into the newly forming planet. They need to get that jar back. ASAP.
Donald's Best Friend: Brigsby, host of top-rated daytime talk show, Breakfast with Brigsby.
The Characters: I had a great time with Donald and Danielle because no matter how outrageous they got, they are completely in love with each other; they don't want to imagine a life in which they can't be together. I used the Willis' from The Jeffersons as my very loose model of them, and just went from there. Although Danielle is more ghetto than Helen and Donald isn't such the "honky" that Tom was.
But I loved having the dichotomy between them: Danielle, the tough-talking black woman with all sorts of attitude, that deep down would rather snuggle on the couch with her "whidew pooky wooky," and Donald, a very straight-laced polite man, whose passions run far deeper than he shows on the surface. And while Donald does more than his share of "yes, dear,"–and means it–he'll go to the ends of Existence to protect his wife. And Danielle will do the same for Donald. Their love is genuine; they are loyal to each other. The problem is that they don't always communicate as well as they should–sound familiar?–and despite being from Eternity, there's a lot you can relate to.
At the heart of their dilemma is that they were given jobs as low-level planetary designers–jobs they were totally unqualified for. But Donald is life-long friends with Brigsby, an Oprah-popular talk show host who just happens to be friends with the executive that owns the planetary design company. So Brigsby pulled some strings for Donald and Danielle, which also included helping them get a snazzy condo in a snazzy building they could never otherwise afford.
While overseeing construction of the waterways on Earth, Donald and Danielle accidentally knocked a glass jar (yep, that pesky jar again) into the newly cooling planet below them, where it vanished. The jar contains building material that if not diluted properly, could destroy the Earth. So they need to get that jar back before anyone finds out that it's missing. They also don't know which one of them actually lost the jar, so even though they instinctively blame each other initially, they both feel guilty about it. That guilt propels them to make some peculiar decisions.
My intent for Donald and Danielle was to challenge their relationship. How far will they go to protect themselves? Their marriage? How deep does their love actually run for each other? What are they willing to sacrifice to hold their marriage together? I think you'll find they handle the stress in some bizarre ways, but I won't tell you how. You'll just have to read the book to find out …
The Illustration: To figure out the physical dynamics of this illustration, Liz and I did a little modeling at home. I wanted to have Donald and Danielle in a fun embrace, but I initially had some trouble working out the logistics. If you notice in the illustration, Donald and Danielle both have their fingers crossed, and it wasn't so easy to figure out how they'd both do that so it was visible, and also be facing forward.
So why the crossed fingers? Aha. Well … throughout Finders Keepers, they're both up to something, but they don't want they other to find out. And, no, I won't tell you what they were doing. It's all in the pages of Finders Keepers …
Also, if you're wondering why Donald is looking a little bleary-eyed … if you were trying to negotiate the madness that's on his plate, you'd look that way too.