Howdy Gang!
It's been a strange start to the year for me. After a very nice holiday I season I got sick for about two solid months — the second month pretty much a cough I couldn't shake — but now that we're into March I've got some very exciting news to announce:
CROSSLINE is for Sale!
Thanks to the gang at Crazy 8 Press, the book is printed, the snazzy cover by Glenn Hauman is done, and you can now buy your very own copy from Amazon by clicking here: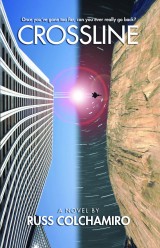 And for all of you e-book readers … guess what? CROSSLINE is available in e-book as well! Click here for the e-book:
Thumbs up reviews for CROSSLINE!
So now that CROSSLINE has launched — ha ha — what's the early word? Here's what just some folks are saying:
"Clever, witty, and relentlessly trippy."   — Chris Millis, author/screenwriter "Small Apartments"
"Crossline is a well crafted, fast-paced chase through the stratosphere. A page-turner!  — Thomas O'Callaghan, Author of the John W. Driscoll series       Want more reviews? Check 'em out here!
BIG Thanks!
As I sign off for this edition, let me give a big shout out to the boys at Crazy 8 Press, and of course to all of you, who continue to support me in all of my crazy writing adventures. And if you happen to pick up a copy of Crossline for yourself, I sure hope you have a good time.
That's why I wrote it.
All the Best,
Russ
www.russcolchamiro.com
@authorduderuss
authorduderuss@gmail.com